Reviews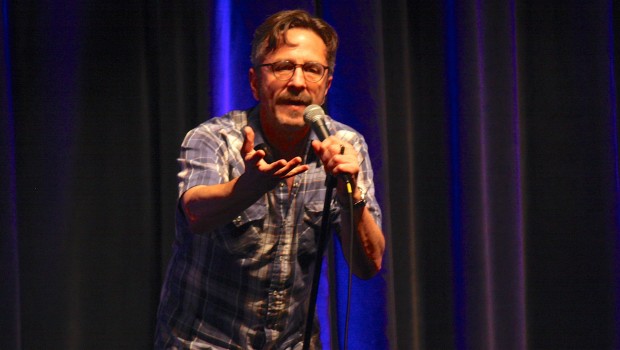 Published on May 27th, 2015 | by Jessica Mickey
0
Review: Marc Maron at the Charleston Music Hall
Nowadays, Marc Maron seems to be more revered for his groundbreaking podcast WTF and IFC television series Maron than his stand-up, which was his main bread and butter for years before hitting mainstream. Comedy nerds in my age range probably remember first watching him as host of Short Attention Span Theater and his appearances on Dr. Katz, Professional Therapist on Comedy Central in the 1990s.
I used to check out his alternative comedy series "Eating It," which he cofounded with Janeane Garofalo, at the Luna Lounge in New York City around 2000 during a brief stint in Hoboken. I remember looking across the room at him after a particularly awesome show and thinking, "Jesus, that guy looks miserable."
Now, all these years later, after listening to his ramblings and making good with guests from his past on WTF, it's pretty apparent that he was. He clearly longed for widespread acceptance and somewhat-massive success. And now he has it. I was curious to see how this turn of events would affect his material and how he relates to the audience.
Though the Charleston Music Hall wasn't sold out on May 15, the crowd was warm, enthusiastic, and welcoming. Ashely Barnhill was a capable opener, warming up the crowd and gauging their energy well. Her monotone delivery and forced vocal fry seemed to turn off some of the crowd, though it felt apropos when touching on the subjects of Los Angeles and hipsters. Like Maron, a large amount of her material focused on various neuroses, to which the audience responded well, leading her to make the observation, "You are such a Maron crowd."
Maron took the stage casually, carrying a cup of coffee and making small talk with the audience, including a late guy carrying a skateboard, which Maron brought up on stage and cautiously stood on, and a large group of roommates in the front row. He was funny and charming, casually riffing off their responses and relating past experiences to their current ones.
At some point, he went into material, but who could say when? He has such a conversational and naturally funny demeanor, it felt like he was just going with the flow, talking about whatever interested him at that moment. Considering he's been doing stand-up since 1987, it's clearly the markings of a pro.
Similar to the work of Jim Gaffigan, who occasionally checks in with the inner dialogue of an audience member, Maron continually checked in with his "inner blogger," who would break in and judge his material. It works as a sort of security blanket, making a joke if a bit fails, but he really didn't need to rely on it. From the expected talk of depression and anger and sex and love to a Jew making sense of Easter to his love of cereal and ice cream, it's clear that Maron is still the malcontent I remember seeing almost 15 years ago. But now he's an optimistic malcontent. He's performing in front of people who know who he is and share in his struggle. And that makes him smile.
Comments
comments
Powered by Facebook Comments