Feature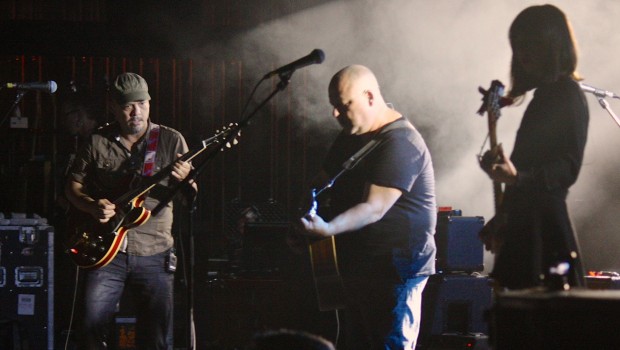 Published on May 18th, 2015 | by Ballard Lesemann
0
Review and Interview: We Heard the Pixies Roar at the PAC
The Pixies, John Grant
North Charleston Performing Arts Center
May 11
It's been a full week since Boston-born alt-rock veterans the Pixies blasted through a massive set of classics and new pieces at the North Charleston Performing Arts Center, and my mind is still reeling and swaying. I caught them three and a half years ago at the PAC during their lengthy run celebrating a prolonged anniversary of the release of the Doolittle album, when the place was packed. On this evening, the room was at just over half capacity.
An early surprise of the night was opening act John Grant (ex-the Czars) and a backing duo comprised of guitarist Petur Hallgrimsson and pianist/organist Chris Pemberton.
Gracious and polite, the bearded lead singer/keyboardist with the rich baritone voice stunned the audience with a brief but powerful set of elegant and amusingly dark ballads and anthems.
A native of the Midwest, Grant spoke about moving around the States and eventually landing in Iceland. Grant and his bandmates played a number of tunes from his 2010 debut solo album Queen of Denmark ("Sigourney Weaver" was a fun stand-out) and 2013's Pale Green Ghosts. Grant's expressive delivery easily switched from sad to joyful. He and his combo's emotive renditions of the proud and cheerfully raunchy "GMF" (the title stands for "greatest motherfucker") and "I Hate This Town" were among several highlights that eventually earned a standing ovation by the set's end.
I remember the Pixies being impressively tight and dynamic at the PAC in 2011. This time around, with looser set of songs and a simple but elegantly lit stage set stage show, singer/guitarist Black Francis (a.k.a. Charles Thompson and Frank Black), guitarist Joey Santiago, and drummer David Lovering seemed more lively, and their show accelerated into something unexpectedly fiery.
The Pixies easily conveyed both sides of their personality — the darker, more terrifying side (via tales if evil, destruction, incest, and romantic dismay) and the weirder, happier side (via bubbly/twisted pop sensibilities and goofball lyrics).
The Pixies hit the stage with bassist Paz Lenchantin (previously of Entrance, A Perfect Circle, Zwan), who's been filling in for original bassist Kim Deal since early 2014. Standing tall and confidently by drummer Lovering, Lenchantin flawlessly handled Deal's basslines and sang expressively throughout the night.
After Deal's departure three years ago, the band decided to press ahead with various replacement bassist, even as they recorded and mixed their latest studio album, Indie Cindy (their first new album in more than 20 years.
Sam old-school fans in attendance feared they'd have to sit through a ton of unfamiliar new material during the show, but the Pixies pulled numerous songs from the entire catalog, including their 1988 full-length debut Surfer Rosa, some big hits and deep cuts from 1989's Doolittle, and a few from 1990's more obscure Bossanova and 1991's Trompe le Monde.
Early in the Pixies' Monday night set, it became clear that the complex guitar interplay between Black Francis and Santiago was totally intact. Black Francis' singing, shrieking, and whispering skills have not diminished. Lovering's precision and attack on the drum kit was even more fluid than back in the day, and he and Lenchantin clicked quite well.
They never said a word to the audience. The closest Black Francis got to stage banter was in the opening line of Dolittle's "Mr. Grieves," when he sang, "Hope everything is alright," which sparked an immediate approving roar from the crowd. Everything was indeed alright, and the enthusiasm from the audience couldn't have been much more evident.
They touched on several giant tunes from Surfer Rosa including the anthemic "Bone Machine," the shouty "River Euphrates," and the well-covered "Where Is My Mind?" Cool obscurities included the eerie and sparse "Cactus," the pounding "Break My Body," and the fast furious "Something Against You." With no Deal on hand, there was no rendition of "Gigantic."
Some of the Doolittle highlights included the hypnotic "Gouge Away," the slow and dynamic "Hey," the ironically cheerful "Debaser," and "Mr. Grieves." They played a slow and quiet version "Wave of Mutilation" in the set's opening moments, then cranked up at full speed and full volume toward the set;s end. Fans sang along with Lovering on the bubble-gummy "Here Comes Your Man," shouted along with the massive chorus of "Monkey Gone To Heaven," and practically moshed in their seats to the fiercely fast "Crackity Jones."
The spooky-but-hard-rockin' tune "Magdalena" from Indie Cindy won over some of the old guard. Lovering banged well on the cowbell on the head-bangin' "U-Mass" from Trompe le Monde. I'd still love to see and hear the Pixies render a version of "Velouria" from the Bossanova album… maybe next time.
It was a very pleasant surprise to hear cuts from their Come On Pilgrim EP, like the waltzy and creepy "Caribou," and the even faster and menacing "Isla De Encanta." The quirky "Ed is Dead" and the effectively repetitive "I've Been Tired" slayed the room.
The Pixies didn't have a chance to exit the stage after their last song; the standing ovation and high-volume cheer kept them at stage-front before they launched in a three-song encore, which ended with a lengthy and noisy guitar cable/noise/solo from Santiago on the relentlessly pounding "Vamos" from Come On Pilgrim.
Metronome Charleston has a chance to chat with Pixies drummer David Lovering, 53, the week of the North Charleston show. Friendly and articulate, Lovering shared more than a few amusing and enlightening big stories about the band's reunion tours, Indie Cindy, and even newer original music on the horizon. Here are a few excerpts:
Metronome Charleston: Over the last 10 years, since the band's initial reunion in 2004, it seems like the big story on the Pixies has turned from the familiar story of a group back together toward a more active tale of a band that's actually writing, arranging, recording, and presenting new material. How does it feel?
David Lovering: I love it all, but I've always really loved touring and traveling. It's a great escape and something that I love to do. I'm game for it on all levels, whatever it might be. The impetus for writing and recording new songs came during that Doolittle tour in 2011 or so. We realized that we just couldn't continue on our laurels doing that thing. We didn't think it was fair, so it was a kick in the pants to get the material for Indie Cindy going.
Metronome Charleston: Was it more of a joy or a tough challenge to make Indie Cindy?
David Lovering: It took about a year to get everyone on board and to get writing. It was the first time we'd gone into a studio in a long time. I used to really hate recording. I just couldn't stand it. Making Surfer Rosa was the first time we really went into a proper studio. With Doolittle and the following albums, we took less time to do the basic tracks. Things happened at a quicker pace, so there was more pressure in the studio, especially for me [as the drummer]. And I'm a bit of a perfectionist, so it was tough.
When we did Indie Cindy, there was some trepidation initially, but it ended up being an absolute joy. We had taken time to prepare the songs before going into the studio in Wales, so we were ready and confident. We worked with digital gear, so the pace was less hectic, and we could take our time with things. I had a fantastic experience making the album, and I'm very happy with the outcome of it.
Metronome Charleston: Describe the new chemistry of the band as it stands now, especially after touring so hard behind Indie Cindy.
David Lovering: We've spent almost two years touring on Indie Cindy, which has been wonderful. It's probably the most touring we've ever done, and because of that, I think the band and myself are playing much better than ever before. Plus, we have Paz on bass right now. She's a consummate bass player, and because of that, she's making me play better. It's working out well with the live sound of the band — and the personality of the band seems very well intact.
Metronome Charleston: It seems like the new bassist on stage has earned the trust and admiration of a lot of Pixies fans so far.
David Lovering: We're incredibly happy with the situation Paz is a joy to be around, and most of all, the audience really likes her. It's all been working great for us, as far as the chemistry and looking ahead … since we did Indie Cindy, we feel like we're still a viable band that can do the thing that we love very well.
Metronome Charleston: Have you had a chance to step away from the band's new music on Indie Cindy and them come back to it with fresh ear and an open mind?
David Lovering: We've been playing the new songs for more that two years, so we feel like we own them now. It's wonderful because I can really listen and think about these songs better than I could with the early album, like when I had to prepare for a tour. We took six months off from the road before this current trip, so I did have to go back and refresh myself with them. I actually started playing a few things differently when new things came into my head, but it was all quite fun.
Metronome Charleston: Your drumming style seems a bit different from the band's initial heyday — especially with the way you hold the sticks these days.
David Lovering: When I started playing drums, I played traditional grip. When the Pixies started, every other drummer I knew played match grip. We were doing some heavy and fast punk stuff, so just for speed and power, I switched to matched grip and played that way all the way through the Pixies' years and the first reunions — all the way up until two years ago. Then I decided to change it up a bit.
You know, I never got complimented for my drumming — ever. I know I'm good with the Pixies and my drumming suits them well, and that's cool and fine. But after switching over the traditional grip, I started stepping up my game a little more. It allows for some more subtle things in my playing. I'm very much more comfortable playing this way — plus it makes me look more like a jazz drummer, which helps make it look like I know what I'm doing. I've actually received more compliments over that last two years than ever before [laughs].
Metronome Charleston: The Pixies have obviously reconnected with old fans on these recent tours. Does it feel like the band is connecting with a new or younger audience as well?
David Lovering: It's amazing, and I feel very fortune that we are connecting with young people now. I remember the first reunion shows back in 2004, like at the Coachella Festival with thousands of people there. Looking out at this sea of people, the majority weren't even born when we first started out as a band, yet many sang every word to every song. That was a surreal moment for me. We played Coachella again in 2014, and it was the same thing, but it was with an even younger group of kids — 12 and 13 year-old kids, singing along.
Metronome Charleston: This month marks the final run of the Indie Cindy tour. What's on the horizon?
David Lovering: This is the last leg of the tour supporting Indie Cindy. One extra special thing that I think we're doing is new material. Back in the day, when we were playing Come On, Pilgrim and Surfer Rosa, those were songs that we'd rehearsed in a little band room and got to belt out around the little clubs of Boston. We're trying to do that again with some our brand-new songs. We have a bout a dozen new tunes, and we're picking about three or four to play at these shows, just to iron them out. That might be something a Pixies fan would be interested in.
The Pixies will be touring up and down the East Coast and visiting parts of Canada and the Midwest through late June. Check out pixiesmusic.com for more.
Photos by Jessica Mickey.
Comments
comments
Powered by Facebook Comments