Galleries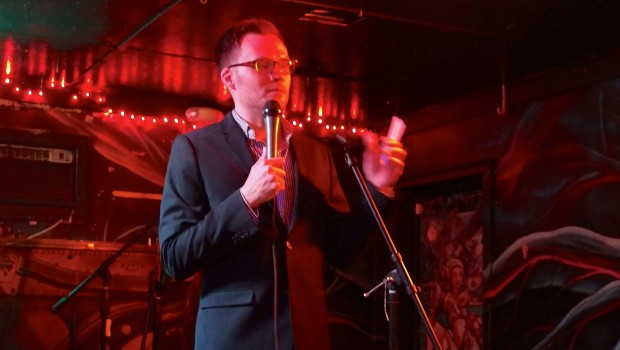 Published on March 28th, 2015 | by Ballard Lesemann
0
Gallery: The March Edition of T.R.O.M. Comedy at the Tin Roof
For years, West Ashley venue the Tin Roof has been well known for offering live music from a wild variety of indie/underground acts from week to week, but the cozy neighborhood hang also regular hosts special events like bingo games, team trivia nights, craft bazaars, live band karaoke, and local and national stand-up comedians.
For more than five years, the club's Charleston-centric T.R.O.M. (Tin Roof Open Mic Comedy) series has provided a great opportunity for established and up-and-coming local stand-ups to try out new material and showcase some of their strongest stuff on stage. Designed as a monthly open mic night (with free pizza from Little Caesar's), T.R.O.M. is usually hosted by local stand-up/improv/sketch veteran Jason Groce.
Last week, on Sun. March 22, busy Charleston comedian Jeremy McClellan (pictured above) filled in as host to welcome 10 performers to stage. Fresh off his recent assignment as Charleston Fashion Week correspondent for CharlestonGrit.com, McClellan looked and sounded particularly sharp.
Sunday's official roster featured McClellan as the emcee and opening act followed by Joseph Coker, Hunter Gardner, Lily Slay, Andy Rider, Peter Schwartz, J.T. Hooper, Michael Clayton, Bill Davis, Hagan Chase Ragland, and Metronome Charleston's own Jessica Mickey. Each comedian delivered solid stuff and earned more than a big laughs. Several rookie performers tried out a few things after the show on the still-open mic.
The monthly T.R.O.M. series continues in April with a show set for Sun. April 12 at 8 p.m. Admission is always free. Visit charlestontinroof.com and the venue's Facebook page for more.
Photos by Ballard Lesemann.
Comments
comments
Powered by Facebook Comments