Interviews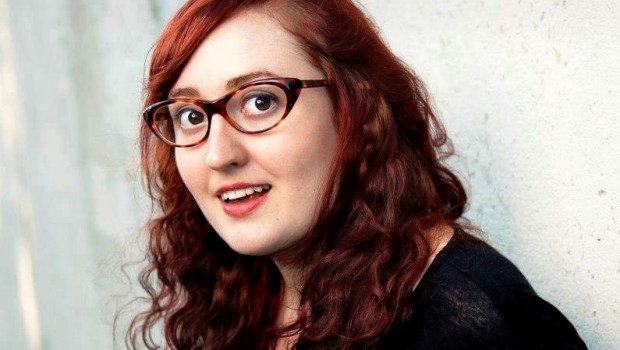 Published on May 6th, 2015 | by Ballard Lesemann
0
Comedian Emily Heller's Stand-Up Tour Aims for Theatre 99
Comedian, writer, podcaster, and actor Emily Heller will be heading to the Lowcountry this Saturday for a headlining show at Theatre 99. Raised in California and currently based in New York City, this will be Heller's first time ever in Charleston.
Splitting her time as a staff writer (on ABC/TBS sitcom Cougar Town and the FOX series Surviving Jack) and a stand-up comedian, Heller frequently travels around North America. Fans of stand-up comedy have enjoyed her numerous appearances on appeared on Conan, Late Night with Seth Meyers, and Comedy Central's John Oliver's New York Stand-Up Show, among other broadcast and cable programs. Heller will be a series regular on the upcoming second season of TBS' Ground Floor.
Paste Magazine's Robert Ham describes Heller as having "a comedic voice that is pointed and occasionally brutal, but with a delirious absurdist bent that helps the acidic social commentary go down a little bit easier."
This spring and summer, Heller and comedian Adam Conover will co-host the weekly "Fresh Out!" stand-up showcase series at the Upright Citizen's Brigade's theatre on Sunset Boulevard in Los Angeles.
Local comedians Jason Groce and Metronome's Jessica Mickey will open the show at Theatre 99 on Saturday night. Heller took a few moments this week to chat with us about her career on comedy and her current East Coast tour:
Metronome: How, when, and where did you first get involved with comedy?
Emily Heller: I've been a performer of some kind or another ever since my entire family did a local theater production of The Music Man when I was five, but I started doing comedy my senior year of college. They offered a stand-up class and I took it and I got an A+. Highest grade I ever got.
Metronome: Was stand-up something you were immediately drawn to, or did you gradually get into it after writing and performing in other ways?
Emily Heller: I didn't think stand-up would be my thing at first. I did a lot of writing and then sketch. But stand-up just seemed to fit the best. Once I moved to San Francisco, it was just the thing that made the most sense and that I had the most fun doing. I am terrible at so many other things.
Metronome: Who were your most favorite comedians, comedy albums, and comedy specials early on, back in the day as a kid? And why?
Emily Heller: I really loved Mitch Hedberg when I was in high school, and I still do. Just those perfect, silly, easily repeatable jokes. I went to see him when I was 17, and I've never laughed that hard in my entire life. And in college, I watched every episode of Maria Bamford's web series about a hundred times. I also really loved David Cross's album Shut Up You Fucking Baby! and listened to it on long car trips with my buddies.
Metronome: As a rookie stand-up comedian, were you drawn toward or aiming for a certain style of comedy or did your material and personal style sort of take shape in a gradual, natural way?
Emily Heller: Some advice I got early on when trying to figure out what material to do was, "Think about the stories you tell a lot, the things you say over and over, and start there." I've never set out to have a particular style. I've just always talked about what I thought was funny and tried to present some funny ideas that other people wouldn't think of. Things that can only come from my weird-ass brain. It's trial and error — sometimes what I think is funny, no one else does.
Metronome: As a seasoned on-stage comic, how do you define your style these days?
Emily Heller: I still don't know how to answer this question! My comedy has been called "brainy," "gross," "self deprecating," "political," and "alternative," but none of those are things I'm necessarily setting out to do. It just sort of comes out that way.
Metronome: Which do you find more challenging: writing for TV shows or writing for your own stand-up material?
Emily Heller: I think writing for TV shows comes a little easier because you're collaborating with other people and you get to build on each other's ideas. Stand-up is tougher because it's so personal to you. The jokes really have to feel perfect to you, and you have to say them over and over again a bunch of times, so you have to really stand by them. With TV, you get to write in a bunch of different characters' voices, so there's sometimes more freedom there.
Metronome: Have you developed a healthy balance between writing and performing these days? Or is it a wild, hectic, unpredictable zig-zag between those sides of your work?
Emily Heller: Total zig-zag with some loop-de-loops in there, too. This tour was my way of putting the focus back on stand up for a little while.
Metronome: If you had to spend an entire summer regularly doing stand-up at local clubs and venues, would you rather spend it in New York City, San Francisco, Chicago, Los Angeles, or somewhere very far away from any of those?
Emily Heller: That's tough! New York City has the most, best stage time for sure, but there's something about San Francisco crowds and shows that is very gratifying. Also, New York City in the summertime is super gross and sweaty, and everything smells like everyone's armpits having a party. So, San Francisco.
Metronome: What do you enjoy most about touring as a stand-up comedian?
Emily Heller: I love seeing new places and eating new foods. Fried green tomatoes, here I come. And I love performing for crowds that I've never performed for before! It's such a pleasure to see which jokes happen to tickle one city more than another. You get a real sense of a place based on what cracks them up, I think.
Metronome: What do you least enjoy about touring as a stand-up comedian?
Emily Heller: Definitely getting up early for flights. I love sleeping. It's kind of my "thing."
Metronome: When was he last you were genuinely star-struck — in the comedy world or elsewhere — and why?
Emily Heller: Amy Poehler came to a show I was performing on. She complimented my set afterward, and I momentarily lost the power of speech. Also I got to meet David Copperfield right after seeing him perform in Vegas, and that was pretty cool because he has just made a giant wooden dinosaur appear out of thin air.
Metronome: This will be your first time in Charleston. What do you look forward to doing, seeing, eating, or drinking in town this weekend?
Emily Heller: Fried green tomatoes! And who knows what else. What should I be looking forward to?
Metronome: She-crab soup. Theatre 99 is great venue for all forms of comedy — a proper seated theater where the focus is on the performers on stage. Do you prefer theater gigs like this, or are they more intimidating or challenging than the louder, looser comedy clubs and bar shows that pop up?
Emily Heller: I much prefer performing at theaters like this. I don't like competing with drink orders and things like that. I think the shows are more fun when everyone is focused on one thing, like we're all really in it together. It's a great energy, and it's great for stand up in particular.
Metronome: For someone who's never caught your act before, what might surprise, shock, or freak out them about your show on Saturday?
Emily Heller: Hmmm… good question! I think my show is a little bit grosser than people might expect. You don't need to bring a poncho or anything, but I do have a couple jokes that I always forget are a little gross until someone in the audience groans. My parents didn't teach me manners, so I think that's where it comes from. But for the most part it's just a good time.
Emily Heller will perform at Theatre 99 at 10 p.m. on Sat. May 9 with support from local comedians Jason Groce and Metronome Charleston's own Jessica Mickey. Tickets are available at the door for $15.
Visit emilyheller.tumblr.com, facebook.com/mremilyheller, and theatre99.com for more.
Photos by Mindy Tucker.
Comments
comments
Powered by Facebook Comments